Welcome to the

Boltz, Pulse, Puls, Pults, Pultz

Family
Reunion 2004
Photos
Group Photo
Click on the link above and set your page setup or printer to "landscape" to print this photo. Photographer is Michele Jacques and permission is granted to print this photo and to make electronic copies for and use by relatives of the Boltz (and related Pulse, Puls, Pults, Pultz) family.
Photo Album
A collection of photos taken at the reunion by Jamie Poindexter.
Featured Photo: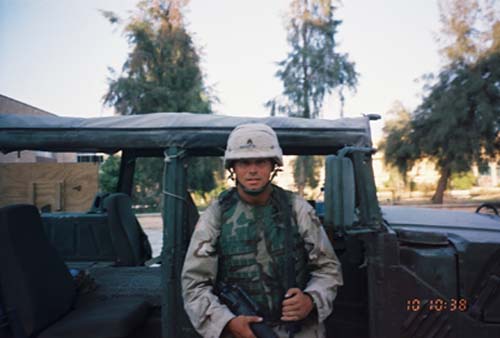 Andrew Boltz
Whereabouts on July 25, 2004: Boltz Reunion in Edina, MO.
Stationed:
Ft. Campbell KY B Company 7-101 AVN, 101st Airborne Division (May 02-Aug 04)

Ft. Wainwright, AK B co 4-123 AVN (Apr 99-Apr 02

Was part of operation Iraqi Freedom Feb 03- Aug 03.
Picture was taken at University of Mosul, July 2003 as part of helping to restore functioning of the University of Mosul.
email: nutznboltz75@yahoo.com
© Boltz Family Members
who are descendants of Johann Michael Bolts and his wife Maria Barbara Lauten and their three children
who came into the U.S. in October of 1737 at Philadelphia.
Public Records shown on this site are not copyrighted by us.
Our Reunion Coordinating Committee
Web site hosted by Jamie Poindexter, jamie@boltz-family.org